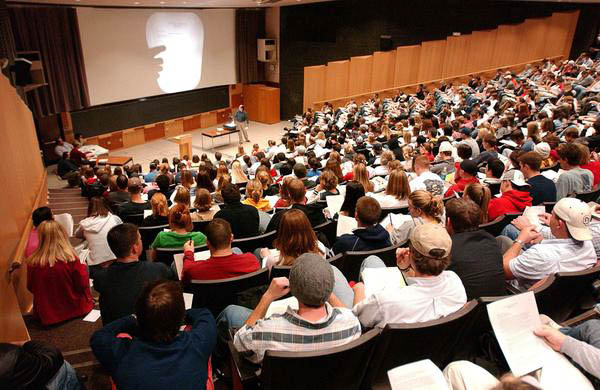 Redesigning a learning experience
The Problem:
Campus defined a set of courses that are highly correlated with student success and retention. These courses were prioritized for interventions and improvements. PSYC 1001 was a key course for an innovative redesign to improve the experience of both instructors and students.
Highly popular, nearly 50% of the college's students take the course

The course enrolls over 1000 students each term

Redesigning PSYC could play a important role in addressing a top campus priority of student success
Role: Team manager & applied researcher | Team: two learning experience designers, and academic design strategist.
Two-stage redesign
I was initially approached by a leadership stakeholder to implement a predetermined physical structure solution. However, my group strongly recommended conducting discovery research with stakeholders. As a result of this work, the project was reframed from the original approach to instead address learning design in a key introductory course.
In conjunction with the academic department we identified the following goals:
Development of strategies to maximize the educational effectiveness of department courses.

Earlier identification of students who need outreach to improve long-term persistence.

Design a learning experience that will lead the department in the direction of pedagogical innovation.
We implemented a two-stage redesign in partnership with the department:
Collect comprehensive data to better understand user experiences in this course and to identify potential areas that would benefit from redesign. Utilize design thinking to translate data insights into actions.

In collaboration with the core teaching team develop and implement a prototype of redesigned course in one section and use it as a benchmark for student learning and overall experience.
Product: Large introductory Psychology course
Audience: Students, Teachers, Psychology & Neuroscience Department
Guiding Questions: Why do students enroll in this course? What are the differences between sections? What are the teaching practices and activities? What are the departmental goals for this course? How can the course be improved for students and instructors?

Surveys
We launched an initial survey to users in order to gather feedback from existing students. The survey was sent to 1154 students across four sections of the course.
438 surveys were completed.


Students were asked about their motivation for taking the course, what their learning experience was like, if they would recommend the course to others, and other open-ended responses.


Results were shared with the project team and stakeholders. They were also included in a data gallery activity with the teaching team.
Field Study/Observations
We observed multiple sections, with different instructors, over an approximate one-month time period using a learning observation protocol .
OPLE helped us to capture teaching and learning activities and the ways that technologies are employed in a classroom.


The protocol was chosen to help instructors reflect on their teaching practices and identify potential areas for improvement with the course as part of a redesign.


Key insight: the high prevalence of teacher focused instruction and minimal student focused or dialogic activities between instructors and students.


Results were incorporated into a data gallery activity with the teaching team and department stakeholders.
In-Depth Interviews
We conducted interviews with students, seven individual and 2 group, for a total of 19 participants overall.
Interviews enabled in-depth exploration with students on core aspects of their experience with the course including:

Why they elected to take the course

Course structure

Likes and dislikes

How particular activities and tools contribute to their learning

Learning preferences

What they would change

Key takeaways focused on knowledgable instructors who convey content effectively, structure and pacing, alignment between lectures and written materials, and making connections between content and real-life.


Results were shared with project stakeholders. They were also included in a data gallery activity with the teaching team and department stakeholders.
"Graded homework would help me because there wouldn't be so much pressure to do well on exams, which are currently the only way we are evaluated in the class."

"More interaction and videos, I want the class to feel more personal and that it was meaningful rather than just taking notes and memorizing facts."
"Fantastic teacher. He spends lots of time talking about his life and funny occurrences, but they actually pertain to the subject and make it easier for me to understand the material! On tests, I will read a question, then think back to a certain story or example that he gave during class. It's a fun, engaging, and useful way to learn."
"I am taking Physics, MCDB, and Organic Chemistry, plus labs in each. The demands of those classes are high. I took this psychology course precisely because it was low demand."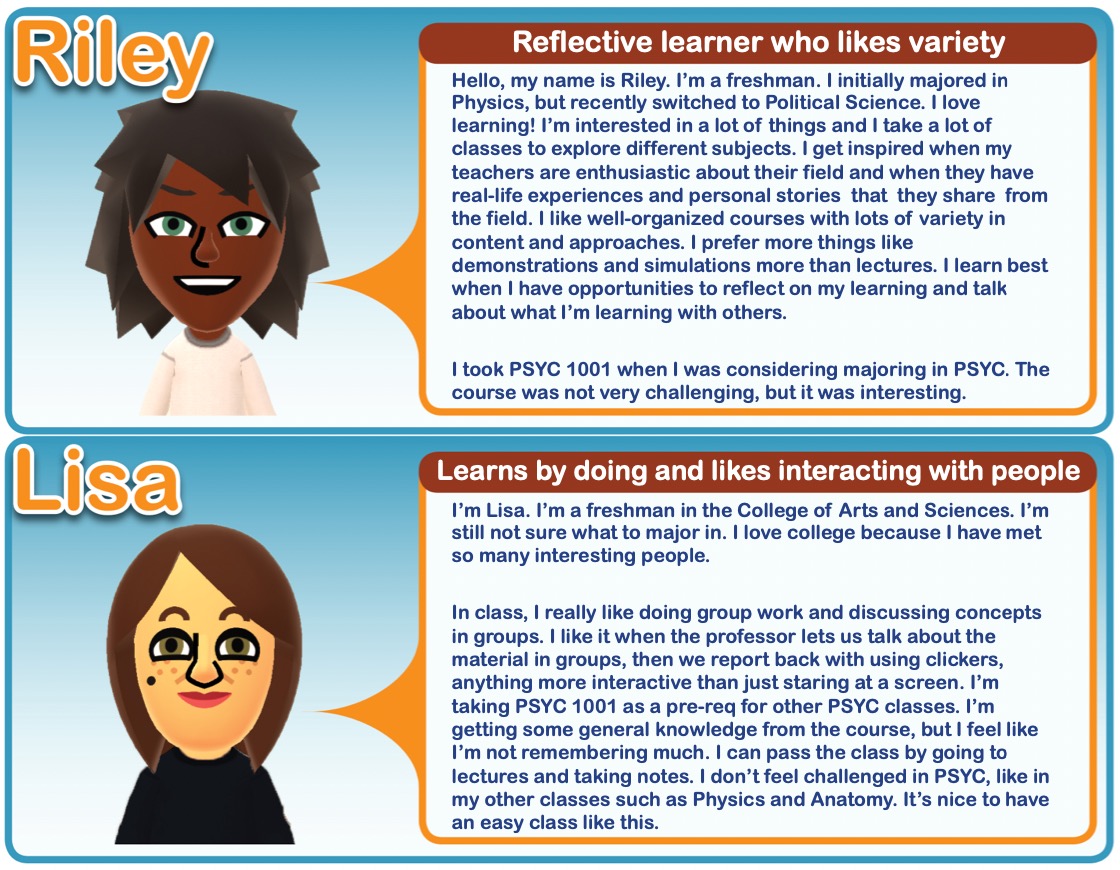 Personas
Based on content from surveys and interviews, we developed five student personas.
Guiding Questions:
Personas were created to capture types of students and prevalent themes in the data.


Personas included demographic information along with motivations, perceptions, and reflections about their experience in PSYC 1001.


Persona's were presented to the project team and were utilized as background and framing in a design thinking data gallery activity.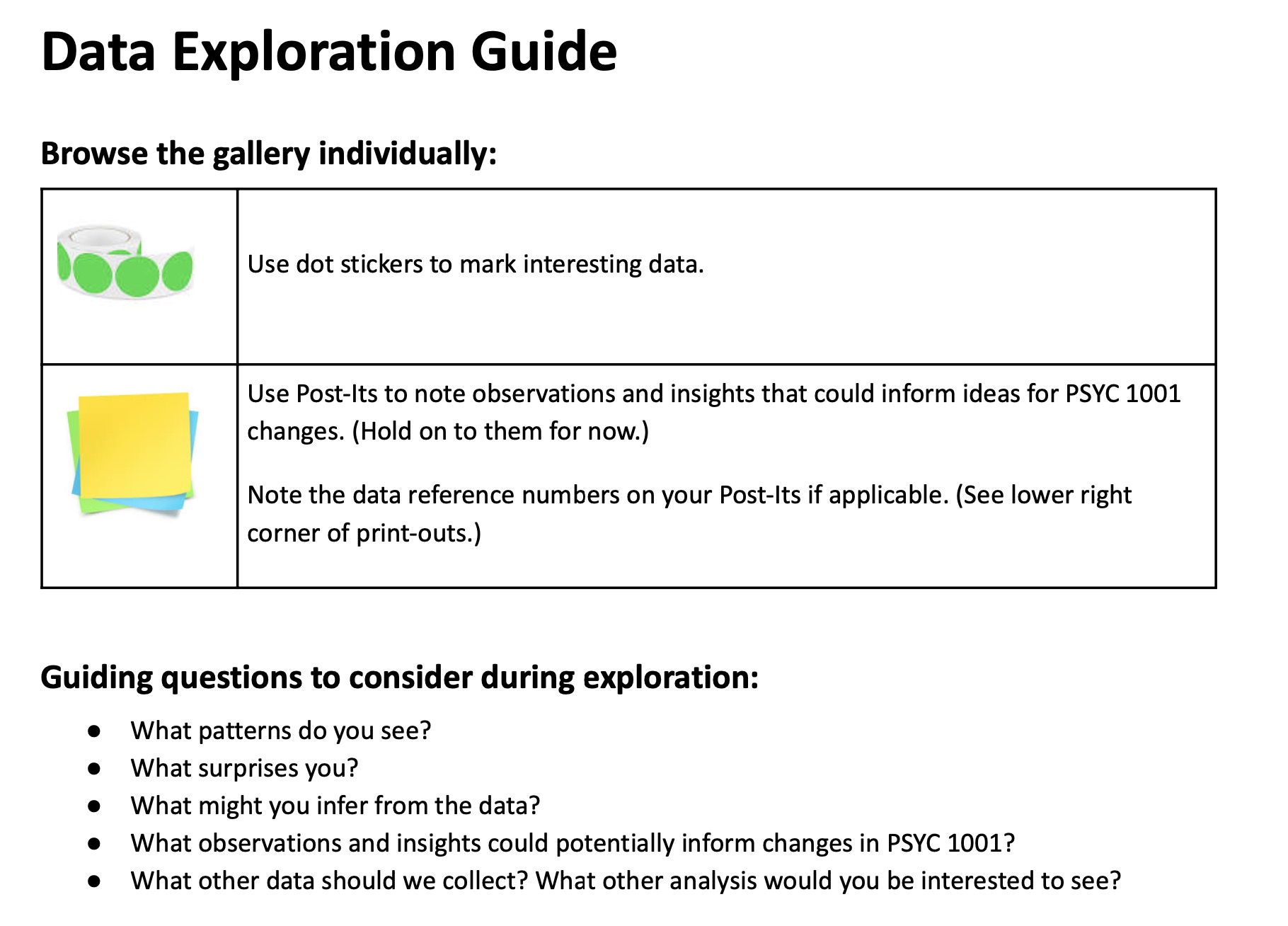 Design Thinking | Data Gallery
Due to the significant data collection involved in the first stage of the project, we decided to utilize a design thinking activity (data gallery) as a way to summarize and share information with the larger team.
A data gallery enabled the researchers to bring together a significant amount of information in a visual and interactive way. Data was anonymized.


The data gallery allowed busy stakeholders a specific time and method for reviewing data together and to reflect on its meaning and how to use it.


The research team created and hosted the gallery in our space and facilitated a multi-step activity with the project team and key stakeholders.


The gallery came at a key inflection point in the project and helped to move the work from gathering information to making decisions and implementation.
Learnings
Department leadership buy-in is necessary for any changes to occur.

Existing structures allowed a great deal of autonomy for instructors and highly variable experiences for students.

Project partners were extremely busy and work like this is under incentivized and often deprioritized.

Change must come both from top-down and bottom-up models.
Impact
Data Gallery:

Participants highly valued seeing and interacting with data.

Insights from the gallery generated ideas and led to a prototype course redesign.

Pilot of a backchanneling app:

Based on observational data and insights from user interviews and surveys, some instructors incorporated a backchannel tool into their teaching.

The app enabled students to ask questions or share comments during lectures and helped them to participate more actively in the course. User feedback on backchanneling was gathered.

Findings and Recommendations:

A report of findings including themes and key insights that emerged from interviews, observations, surveys, and other secondary data along with recommendations was shared with the project team.
Project Limitations
Significant changes in roles and responsibilities within the Department and project team resulted in a shift in priorities and limited the implementation of recommendations.

However, the project provided insights into student motivations and expectations and helped to improve the research team's processes, which informed future projects.