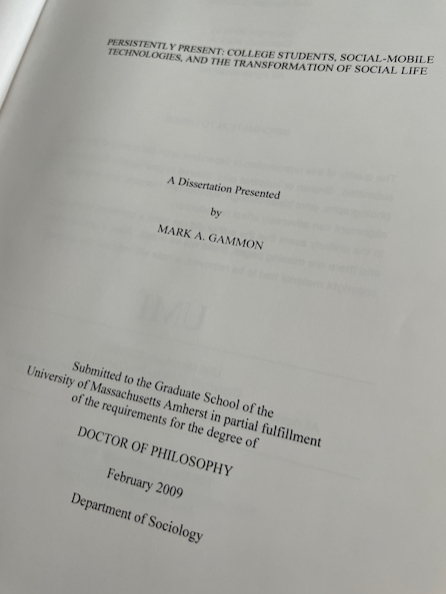 Ph.D. Dissertation Research, 2009
Sociology Department, University of Massachusetts Amherst
The Problem:
Academia is notoriously slow in responding to change. Emerging social-mobile technologies are restructuring social life and social relationships. The discipline of sociology has an important role to play in understanding the impact of these media.
User-centered research on college students' use of social-mobile technologies

Nascent days of social & mobile technologies (2004-2007)

Understanding the implications of these technologies on their social interactions and relationships
Role: Lead Researcher | Data Analyst | Project Manager
Social Extensibility
Noting that contemporary social life is marked by connections that are more flexible, accessible, negotiable, and persistent because communication opportunities are nearly constant, I argue that social- mobile technologies are shifting and reconfiguring the ways that students build and maintain their social relationships. Within this environment social-mobile technologies are effectively serving as tools of social extensibility, allowing individuals to expand, enhance, and extend their social presence.
The concept of social extensibility is investigated across four interdependent areas that emerged in my data and the related literature: connectivity, virtual spaces, non- spaces, and expressiveness.
Product: Ph.D. Dissertation
Audience: Sociology and related disciplines
Guiding Questions:
1) How is the near perpetual connectivity afforded by contemporary Social-Mobile Communication Technologies (SMCTs) reconfiguring the nature of social interactions and relationships?
2) How are SMCTs reshaping the roles of places and spaces in social communications and interactions?
3) How do the interactive contexts of SMCTs influence the negotiation and navigation of emotions, intimacy, and the connections formed and maintained through them?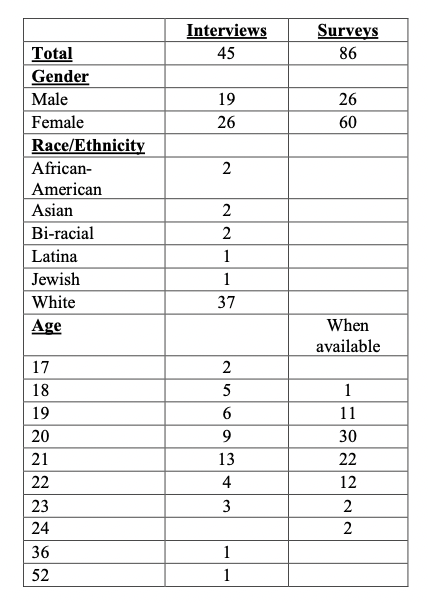 Data Collection
Data for my project was collected over an approximately two year period.

Data included individual interviews (N=45) and vignette surveys (N=86).
In-Depth Interviews
I conduced 45 individual semi-structured interviews with college students. Interviews lasted 30-60 minutes and were recorded and transcribed.
In-depth interviews were selected in order to help understand participant's experiences with technology and to elicit deep context about their use and perceptions.

My study took a grounded theory approach in order to allow my participants to help shape the direction of the project.

A constructivist grounded theory approach enabled a dynamic relationship between the data collection and analysis and emphasized the emergent character of this research.

Vignette Surveys
Vignette surveys were conducted in several university classes. Survey's consisted of 2-3 vignettes or scenarios which students were asked to respond to in writing.
Vignettes were used to prompt participants about a particular idea and elicit their reflections and insights.

86 vignette surveys were completed

Responses were reviewed, organized, and coded with particular attention to sensitizing concepts related to the larger research questions
Analysis
The project utilized grounded theory and analysis included comparisons and 'sensitizing concepts' —background ideas that inform the overall research problem— in an effort to understand and organize the experiences of my participants.
Participant's interviews and survey responses were coded based upon common and emergent themes as they related to the research questions.
Within the scope and boundaries of the topic, efforts were made to allow for participant's voices and opinions to help shape and define the direction of the project.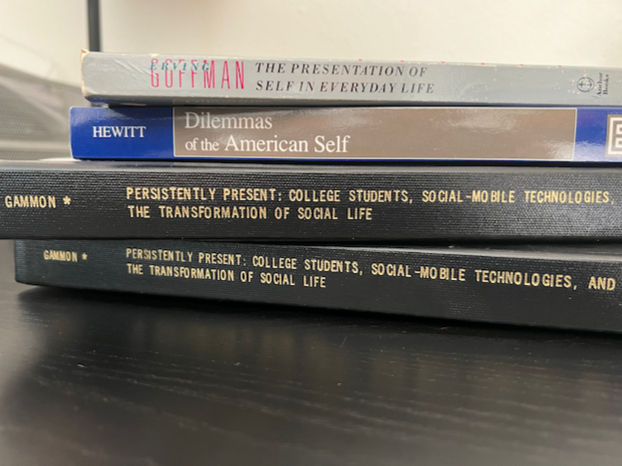 Emergent Themes
Persistently present | Social extensibility

Perpetual networktivity

Virtual spaces/non-spaces

Micro and hyper-coordination

Expressiveness in lean contexts
Outcomes/Impact
My research highlighted fundamental shifts to social interaction enabled by emerging social and mobile technologies. This early exploratory research focused on raising and presenting these themes along with the underlying argument that sociology as a discipline needed to be more aware and engaged with them.